Mental Health Resources
To show our ongoing support to students and their overall wellbeing, LazSoc has put together a compilation of all the amazing mental health resources Laurier offers to students, as well as resources the Ontario province offers. We have also included some tips and stories from real students, for students. Click here for the comprehensive mental health resource kit.
PRISM Resources
Students enrolled full time in the School of Business and Economics are PRISM Resources Members. PRISM offers resources to our members, including exclusive access to computer labs, unlimited training courses and much more.  To read about all of the benefits of being a PRISM member, please visit PRISM Resources or speak with a Customer Service Representative at our Help Desk. 
Foot Patrol
519.886.FOOT (3668)
Foot Patrol is a volunteer operated walk-home service, available daily during evening hours. Male-female, radio-dispatched teams trained in Emergency First Aid are available on request to escort students to and from campus as well as to off-campus destinations, either by foot or by van.
Student Food Bank
All Laurier students are eligible to use the Student Food Bank. Anonymous requests can be made online at WLUSU.com under the services tab. All dietary restrictions are accommodated, and food hapers typically last up to a week. For more information, please visit WLUSU.com
Counselling Services & Peer Help Line
1-866-281-PEER (7337)
Counselling Services are available to help students deal with emotional, psychological, and social challenges at university. Counselling, consultations, and referrals are available on the 2nd floor of the Student Services Building (across from Heath Services), Monday-Thursday 8:30am - 8:00pm, Friday 8:30am - 4:30pm. Peer Help Line, a confidential listening, referral, information and support line, is available during evening hours to provide support.
Study Spots Around Campus
24 Lounge
Located on the second floor of the Fred Nichols Campus Centre, the 24-hour lounge is equipped with computers, quiet study spaces, and group study rooms. If vending machines aren't enough to tie you over, the lounge is conveniently located right above Wilf's and the Terrace Food Court.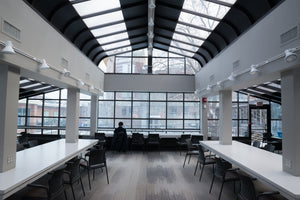 Solarium
The solarium is a top choice for students seeking a quiet study space; with comfy furniture and a great view, what more could you ask for?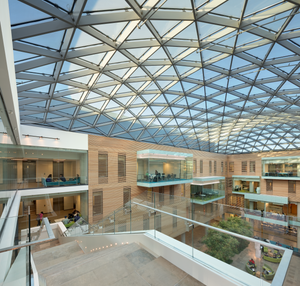 Lazaridis Hall
Take advantage of Laurier's state-of-the-art facility, Lazaridis Hall. Whether you are looking for individual or group study spaces, Lazaridis Hall is equipped to accommodate your study style with over 400 seats and 60 tables throughout its four floors, including LH3104 and the atrium. Perk: Lazaridis Hall has an on-site café to fuel your study session; take a break and have a bite at Byte 75.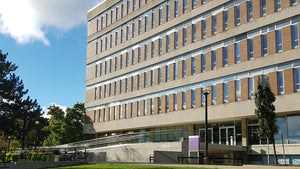 Library
With a computer lab, group study rooms, a lounge, and an on-site café, the Laurier library offers amenities to suit all your studying needs.The seventh floor of the library, accurately named "Silent Seven", is for those of you who prefer to study in silence. Crack open your textbook in a private study carol and keep it down – there are hawks studying.To reserve study space in the library, please consult the library study space tool.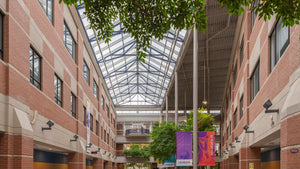 Science Atrium
The Science Atrium is a bustling hub of students cramming for exams and offers a great spot for group discussion. Perk: Tim Hortons is only steps away.